Inspired by reading Maren Martschenko's book "Design ist mehr als schnell mal schön", our UX designer Julian Mengel puts the relevance of good design into his own words.
"Good design is good business" is the quote from IBM founder Thomas J. Watson. But what exactly does design have to do with business success? Doesn't design cost time and money in the first place?
There are good reasons why design is not just a cost factor, but a fundamental success factor for brands and products. I would like to take a closer look at these in the following.
First, we need to clarify what design actually means in this context. Similar to the terms "Agile" and "Big Data", "Design" is probably one of the most misinterpreted and misunderstood terms of all.
Design is fundamentally more than just something that looks good
Design, as it is lived in successful companies, means that all areas of the company are affected. Successful companies are able to examine the needs of their users or future buyers in detail and to develop products and services with which they can positively distinguish themselves from the market and thus be successful in the long term.
McKinsey developed a design index as part of its 2018 study The business value of design which calculates the business value of design for the first time ever. The study shows a clear correlation between design best practices – whether product, experience or service design – and financial performance: companies that have exemplary design awareness increase their revenues and shareholder returns almost twice as fast as their competitors on an annual basis.
The most successful companies attach great importance to the following four aspects of using design to make a measurable contribution to value creation. These form the foundation of the McKinsey Design Index:
1. Design is more than a feeling. Design performance is as measurable as a company's revenues and expenses. You just have to start measuring it. Successful companies consistently pursue a user-centric strategy.
2. Design is more than a department. User-centered design is not a solo effort by the "department" responsible for it. Rather, it is implemented by cross-functional teams.
3. Design is more than "once fast". Design is not a phase. It is a continuous iterative process that always integrates the users of a product or service. The best-performing companies reduce the risk of undesirable developments by continuously listening to customers, testing new ideas, discarding them or improving them – all supported by accompanying competitive and market analyses.
4. Design is more than a product. It's about a holistic user experience. The product must be experienced before purchase, during purchase, in use and in service. The boundaries between product design, experience design and service design are fluid.
Successful companies have established design along the entire customer live cycle and ensure that every point of contact between the customer and the company is designed accordingly (touchpoint design). After all, even the best design and marketing will fail if an already annoyed customer wants to exchange his product, which is in the warranty phase, and encounters a bad-tempered service employee. These are the "moments of truth" that designers should help shape in the sense of a holistic user experience – because they decide whether a customer becomes or remains a loyal customer who either recommends the product to others or turns his back on the company because of a bad experience or – even worse – publicly gives a bad review.
Why is UX design becoming more relevant?
Globalization and digitization affect not only individual industries, but the entire business world. Products and markets are changing, companies are confronted with changing customer requirements. At the same time, the wheels of business are turning ever more dynamically, technologies are becoming obsolete more quickly, and disruptive events can render certainties obsolete overnight.
The following chart shows how many years it has taken for an innovation to become ubiquitous with 50 million users.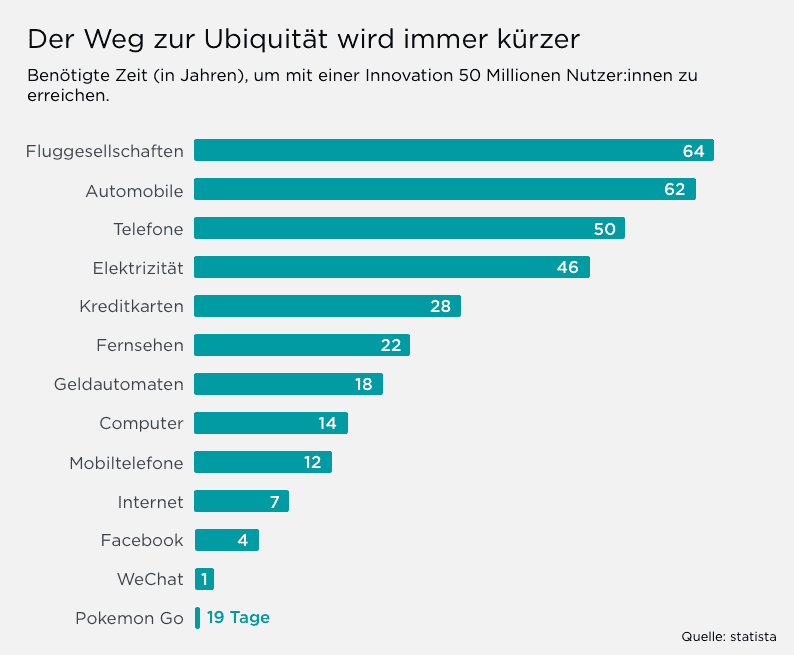 Change management experts have coined the term "VUKA world" to describe the phenomenon of this fast-moving and volatile world, which is made up of the following challenges:
Volatility
Uncertainty
Complexity
Ambiguity (multiple and double meanings)
Many things have become unpredictable in this VUKA world: Prices, customer expectations, competitors – the experts call this volatility. In many cases, this is accompanied by great uncertainty about what to do next. For some companies this leads to actionism, for others to standstill.
This is because many companies are faced with the challenge of taking completely new paths, e.g., digitizing their service or products.
In their book of the same name, Alex Osterwalder and Yves Pigneur refer to successful companies and organizations that constantly reinvent themselves in order to avoid becoming obsolete and disappearing from the market as "invincible companies".
An "invincible company" constantly explores the future and at the same time draws on the present in an excellent way. They maintain a constant culture of innovation. Designers in these companies help break new ground, test and optimize it on users, or discard it and set their sights on new goals.
Failures and groundbreaking inventions are inseparable twins, because the road to success is paved with failures. Designers help test new business ideas with the target group at a very early stage and adapt them to the real needs of the target group. This saves money because feedback on success or failure is available at very early stages of the project, rather than after months of development and the creation of an MVP.
Conclusion
The task of UX design is not to die in beauty, but rather:
to build a deep understanding of user needs,
never losing sight of the business goals,
define and keep a close eye on the ROI,
and to go new ways and to look for new solutions.
Because design is more than a quick makeover….
Sources:
"Design ist mehr als schnell mal schön", Maren Martschenko, 2020, ISBN 978-3-87439-937-1″
"The Invincible Company" Alex Osterwalder, Yves Pigneur, Et al., 2020, ISBN 978-1119523963U
The task of UX design is not to die in beauty, but rather:
to build a deep understanding of user needs,
never losing sight of the business goals,
define and keep a close eye on the ROI, and
to go new ways and to look for new solutions.
Because design is more than a quick makeover….
Sources:
"Design ist mehr als schnell mal schön", Maren Martschenko, 2020, ISBN 978-3-87439-937-1″
"The Invincible Company" Alex Osterwalder, Yves Pigneur, Et al., 2020, ISBN 978-1119523963U